INTRODUCTION
The early days of online presence of corporate bodies, governments and schools via static websites whereby the company displays texts and images to the visitors of the website, have been speedily replaced by a new era of second generation web platform popularly known as Web 2.0. The Web 2.0 platform allows a two way interaction, collaboration and information and data sharing among web programmers, developers, organizations, individuals users, peers-to-peer users and any body that visits the platform. This new trend of web technology has evolved rapidly and increasingly adding more interesting applications almost on daily basis. The evolution of Web 2.0 technology has made it so alluring and hard for any body or organizations to resist. In fact, most organizations have quickly adopted these web 2.0 technologies to enhance their business and marketing activities.
Many companies nowadays include the Web 2.0 tools in their websites and companies who do not use the Web 2.0 tools seem to be lagging behind or left out.
In due of the above facts, this report is deemed to introduce the Web 2.0 technology, define the meaning, and explain the Web 2.0 tools and their usefulness. We will also elicit the risks of using the Web 2.0 tools and possible measures to control or avoid the risks. In doing these, we will use a recognized company who has adopted the use of the Web 2.0 tools in their website as a case study.
INTRODUCTION TO WEB 2.0
Web 2.0 is a resounding name and sometimes tech savvies may be wondering what web 2.0 really stands for, even though they may be using it right then while asking the question. Therefore, this report will shed the light into what web 2.0 really means and why its name, functions and characteristics are a must have in the informatics world.
Web 2.0 is simply a coined name given to web sites with applications that are rich in contents and accord the users the ability to contribute to what they see on the browsers while the applications are running. Web 2.0 websites and applications allow a two way, interaction, contribution and collaboration between the web developers and the users whereby the web developers include applications that enable users not only to browse the web and view what was displayed to them, but also to contribute to what the web developers can also read and see, as well as other users. Users can be able to upload, add and share information and data among other users. The word web 2.0 was first made public by Tim O Reilly, the CEO of O' Reilly Media Inc. Tim O' Reilly is considered as one of the world's best publisher in Computer Technology books. In 2004 Tim O' Reilly hosted a Web 2.0 conference, and during the conference, he talked about the new second generation World Wide Web technology trends and their emerging influence on the new platform of the World Wide Web (W3). O' Reilly therefore described this new platform of the W3 as the Web 2.0 differentiating it from the old semantic web, web 1.0 which only allows a one way use of the web. Ever since then people have addressed this new web platform as web 2.0 evolution of W3.
WEB 2.0 TOOLS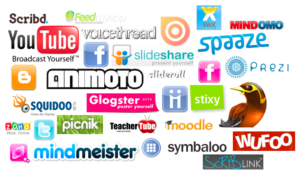 Web 2. 0 has a number of developed applications which can be grouped under some categories of technologies. These include: Wikis, Blogs, Social Networking and Content Hosting Services.
Wikis

Wikis are websites which are collaboratively run by a group of web developers who collaborate together to upload information and data on the web page and allow for collective checking and updating of the contents of the website. This website can be for a community of people or organizations thereby allowing the members of the communities to be able to upload and edit information on the website. This website can serve as a resource for information searches by external users who are not member of the community. Wikis can be for global and local usage depending on the purpose for which they are set up.

Example of a wiki website is Wikipedia – www.wikipedia.com
Blogs

A blog which is a word gotten from Web log is a web presence maintained by an individual or a small group of persons as a medium to share individual or the group ideas and views on political, social, health, education or any issue of concern to them. The owner of the web log website is called a blogger. Usually the web log has provision for the viewers and visitors to the blogs to be able to comment on the topics which the bloggers wrote about. The bloggers can show their views through texts, images, and sometimes include videos and sounds.
Nowadays, people use blog to share their daily lives as a diary and also write on social and political issues affecting their lives or society where they live in. Organizations also now have their own blogs where they write on issues about their company and their customers can also comment on those issues and get responses. Example of blog website http://sundayobinnaejianya.blogspot.sg/
Social Networking

Social Networking Sites are websites that allow users to create profiles sometimes with their photos and personal details. This profile can be made public so that other people who visit the website and search for such profiles can be able to view them without the profile creators express permission. The profile owner can also be able to make their profile to be private meaning that their personal details or photos can only be viewed by themselves and other persons that they permit to view them.

The users in the Social Networking sites can connect to other users who share same interests as they do or they are friends or relatives. Nowadays, companies and organizations also join the Social Networking websites and create their company profile as a means to reach and connect with their customers and target the public as a strong marketing strategy since they are able to connect with so many people.

Examples of Social Networking Websites are: MySpace – www.myspace.com, Facebook – www.facebook.com, and Linkedin – www.linkedin.com.

Content Hosting Services
Content Hosting Services are websites that run servers with database where users can create profiles and then the users can upload multimedia contents like audio, video, images and texts for other users to access, view and play the multimedia contents. Sometimes, the Content Hosting Services can allow for users to be able to download the uploaded contents to their own computers. The Content Hosting Service websites is a platform that also allow uploading and sharing of multimedia contents among users and visitors to the website.
Example of Content Hosting Service website is Youtube – www.youtube.com and Instagram – www.instagram.com
The use of the Web 2.0 tools and technologies have continuously increased among people or diverse ages and communities and these people are the constituents of the numerous customers and partners of corporate organizations and companies, hence many companies and organizations have resorted to the use of the Web 2.0 tools and technologies as and almost indispensable medium to reach the respective target customers, consumers and business partners. Web 2.0 tools and technologies have made it easier and cheaper for organizations and companies to reach target consumers and customers in a very large scale.
One of the companies that have embraced the Web 2.0 dynamic tools and technologies and using the tools to reach their customers and partners in business is Singapore Airlines (SIA) – www.singaporeair.com.
SINGAPORE AIRLINE
Singapore Airline, a Five Star airline is the National Brand Airline of Singapore with a company slogan: " A great way to fly".
Singapore Airline was founded in 1947 as Malayan Airways and after Singapore's separation from Malaysia, in 1966 the Airline was changed from Malayan Airways to Malaysia-Singapore Airline and later in 1972 it was changed finally to Singapore Airline which is the name it bears till date.
As at 2013 Singapore Airline operates with 105 aircraft fleet among which are Airbus A330, Airbus A340, Airbus A380, and Boeing 777. In order to maintain the standard of their services, Singapore Airlines has a strong management and maintenance policy of keeping their aircraft fleets always in excellent condition and it adds new fleets frequently to replace older fleets that do not meet up with their standard.
Singapore Airline measures as one of the best Airlines in the world and as the major Airline in Singapore, it has 62 numerous routes within Asia and other continents of the world. All the routes will have to transit at Changi International Airport which is the hub of SIA. Singapore Airlines has a net worth of about 14 billion US dollars, and a total of 14,156 employees between 2012 and 2013 fiscal years. As a result of it's enormous success in the Air Transport business, SIA was rated as world's second largest Airlines in terms of market capitalization by the International Air Transport Association (IATA).
The reputation and steady growth of the Airline has been attributed to the efficient management policies, and also following the evolution of the Informatics, the SIA management has also involved the use of Multimedia technologies to increase their productivity and hence rapid growth. SIA uses Web 2.0 technologies like blogs to allow their cabin crew to communicate with each other and share their views and work experiences. Customers and other visitors are allowed to leave comments and feed backs on any information they want to make known to the airline management.
SIA also uses the Web 2.0 tools and applications such as Social Networking sites: facebook, – https://www.facebook.com/singaporeair and twitter, – https://twitter.com/singaporeair